Spine Surgery
The Impact of Spinal Problems
Because the spine is central to the proper functioning of the body, problems with the spine can affect nearly every aspect of daily life. If you or a loved one suffers from any type of spinal problem, you know just how true this statement is. In the past, the only option for many people was to stay quiet and suffer through the pain and loss of mobility caused by spinal problems. Thankfully, this is no longer the case because new suffer through the pain and loss of mobility caused by spinal problems. Thankfully, this is no longer the case because new treatments are available for most spinal problems. There is no reason for spinal pain to control your life. Seeking treatment may not completely restore your mobility, but it may dramatically improve the quality of life for you and your loved ones. Once you have decided to seek treatment, you will need to speak with a physician about your specific condition and treatment options. Because there are so many possible conditions and injuries that can affect the spine, there are also many treatment options. Your doctor will determine whether a surgical or nonsurgical treatment option is right for you.
What Could Go Wrong?
Because the spine is such a complex system, there are many things that can go wrong with it. While there are numerous possible points of failure, they all fall into one of two main categories: soft tissue and bone damage. These are the two most common causes of neck and back pain.
Soft Tissue Damage:

The soft tissues tissues of the spine include include muscles, muscles, nerves, nerves, and vertebral discs, which are the small pieces of tissue that cushion your spine. Problems with any of these can be painful, but they can also limit your ability to function. Depending on the exact nature of the problem, the treatment for soft tissue damage usually includes physical therapy and rest along with analgesic medications to manage the pain. In some cases, surgery may be the most effective treatment, but your physician will need to help you make that decision.

Bone Damage:

Bone damage is another common cause of neck and back pain. Injuries or diseases such as osteoporosis or osteoarthritis can cause this damage. These types of problems problems can often be treated treated with braces and medication, but in severe cases, a surgeon may perform a spinal fusion, a procedure that stabilizes the deteriorating bones of the spine with metal rods or plates. This is quite an involved surgical procedure that may require a year or more for a full recovery, but the alternatives may be debilitating pain or even paralysis. No matter what the underlying cause is, spinal problems can make it difficult or impossible for you or your loved one to live a normal life.

Disorders Related to Aging

The Baby Boomer generation is already experiencing age related spinal problems such as spondylolisthesis, disc disease, sciatica, spinal stenosis, myelopathy and radiculopathy radiculopathy. Most conditions conditions respond respond to conservative conservative treatment. When surgery is deemed necessary, minimally invasive procedures generally result in a much quicker, easier and full recovery.

Physical Therapy Spine Specialists

Physical therapy is often very effective and may include modalities such as heat, cold, massage, ultrasound, electrical stimulation, traction and a specialized exercise program. We have both inpatient and outpatient physical therapy facilities, and our therapists are subspecialty trained to deal with spine problems, including manual therapy. If you prefer, we can also work with a physical therapist near you.

Comprehensive Diagnosis

We work closely with board-certified musculoskeletal radiologists to provide a comprehensive diagnosis. If pain still persists after conservative treatments are exhausted, we will order diagnostic tests, such as x-rays, CT scans, bone scans, MRI or nerve studies.
Interventional Pain Management
A very small percentage of patients actually require surgery. Many people find relief from pain through non-surgical interventional procedures. Our specialists specialists in Interventional Interventional Pain Management Management use fluoroscopic-guided injections for non-surgical treatment of back and neck pain. In addition to its obvious therapeutic benefit, an injection can also play a very important diagnostic role in the identification of the source of pain for patients who have had back pain unresponsive to treatment. Epidural or facet joint injections can be extremely effective in relieving chronic pain, sometimes permanently, and various types of nerve blocks may be used to avoid surgery. Spinal cord stimulation may also be an option in select cases.
Nonsurgical Treatments
The thought of having surgery can be very frightening, so it is understandable why many patients prefer nonsurgical treatments when they are available. Nonsurgical treatments can be effective for certain problems, but they often involve a longer recovery period than surgical options. No matter the issue, nonsurgical treatments typically involve a combination combination of the following following three techniques techniques: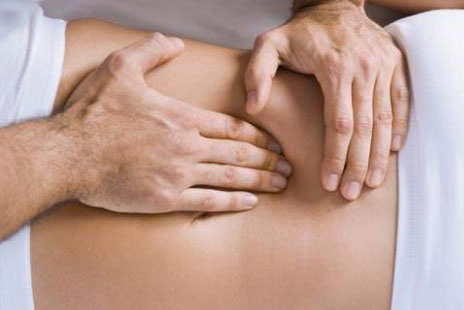 Physical Therapy – Physical therapy and exercise are designed to strengthen the muscles surrounding the spine for better support and increased flexibility. This reduces the risk of injuring your back or worsening an existing injury.

Back Braces – A back brace may be used to stabilize and support your back when your muscles are unable to do so. They are typically worn for a limited time.

Reduced Activity – Reducing your activity level may be required until your body recovers from a spinal problem. Reducing or discontinuing discontinuing certain certain activities activities may give your spine the rest it needs to recover naturally.
Surgical Treatments
Patients who receive surgical treatments for spinal problems often have a shorter recovery time than patients who opt for nonsurgical treatments. This is one major benefit of spine surgery. Surgeries run the gamut from laparoscopic laparoscopic disc repair performed performed on an outpatient basis to spinal fusion that may require a two-to three-week hospital stay and months of physical therapy. Only a qualified physician can correctly evaluate your spinal problem and design an effective course of treatment. Before making a decision, be sure to discuss the risks and benefits of spine surgery with your doctor.
Spine surgery is one of the most successful surgeries performed in the World.
It has undergone massive advancements since its introduction in the 1960s.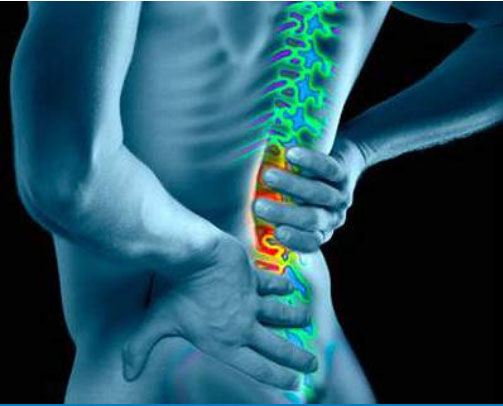 Spinal Disorders Treated We provide a full spectrum of spine care, from conservative measures and pain management to minimally invasive procedures and large scale reconstruction of spinal deformity. Some of the disorders treated here are :
Ankylosing Spondylitis

Arthritis

Cauda Equina Syndrome

Cervical Radiculopathy

Compression Fractures

Degenerative Disc Disease

Fractures and Dislocations

Herniated Disc

Low Back Pain / Instability